Extend the Life of Your Roof Through Routine Maintenance
Everybody knows the value of regular maintenance, whether it's for your car, your HVAC system, or your teeth. But your roof?
It is important to maintain your residential roof because your home is both a shelter for you and your family, as well as a valuable investment, and it requires proper attention. Attention that starts at the top.
Your roof is your first line of defense against the outside elements in and around Rockford and Stockton, Illinois. Rain, snow, extremes of heat and cold, your roof takes a beating, day in and day out. It gets dirty. Tree limbs fall on it. And sometimes, when tree limbs fall on your roof, they make small puncture holes that allow rainwater to get inside your walls.
Neglecting residential roof maintenance can lead to structural damage and compromised safety, issues that if addressed too late, result in costly repairs. Not to mention that a leaky roof is a roof on a house with a lower property value.
Regular roof maintenance ensures your roof is in tip-top condition, free of debris or possible damage that could shorten your roof's useful lifespan, not to mention impairing the underlying structural integrity of your home.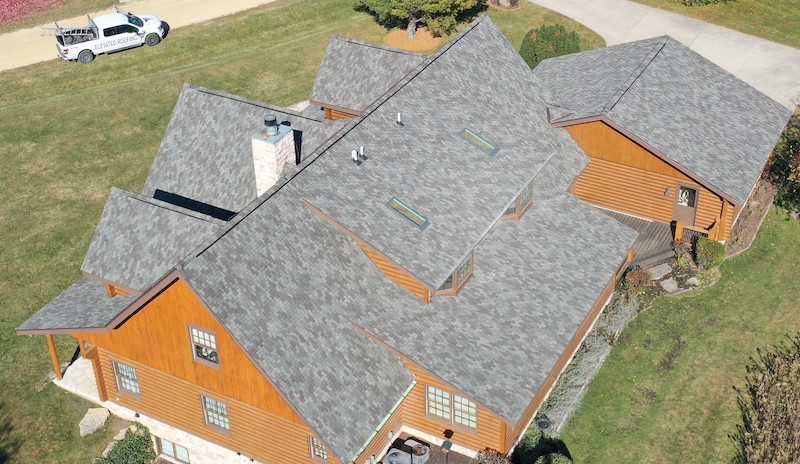 5 Roof Maintenance Benefits
PROTECTS YOUR HOME FROM THE WEATHER
Over time, constant exposure to the outside elements can cause significant damage to your roof, possibly leading to leaks, rot, mold growth, and compromised structural integrity. Regular roof maintenance ensures that any minor issues are promptly identified and fixed before they escalate into major problems, safeguarding your home and preventing more costly repairs.
EXTENDS ROOF LIFESPAN
Routine roof inspection and maintenance helps identify and address potential issues early on before they become more serious problems that can severely shorten the useful lifespan of your roof. A well serviced roof is a long-lasting roof.
IMPROVES ENERGY EFFICIENCY
A well-maintained roof plays a significant role in maintaining a comfortable indoor temperature and reducing residential energy costs. Over time, wear and tear, inadequate insulation, or damaged seals can compromise your roof's energy efficiency. Periodic roof maintenance can identify and rectify any issues affecting insulation, ventilation, or reflective properties so your home remains energy-efficient, reducing heating and cooling expenses while promoting environmental sustainability.
PREVENTS WATER DAMAGE AND MOLD GROWTH
A leaky roof can cause extensive water damage to your home's interior, causing compromised ceilings, walls, flooring, and even electrical systems. Accumulated moisture provides an ideal environment for mold growth, which can pose serious health risks. Regular roof maintenance helps prevent leaks by identifying damaged shingles, deteriorated flashing, or clogged gutters. Addressing these issues promptly mitigates the risk of water damage and mold growth, protecting both your residence and your family's well-being.
PRESERVES PROPERTY VALUE
A well-maintained roof improves the curb appeal of your house and reassures potential buyers that your structure is in good condition. Regular roof maintenance helps preserve the value of your investment, ensuring your home remains attractive and marketable.
Get All the Benefits with None of the Hassle
The experienced and licensed roofers from Elevated Roofing Services thoroughly inspect your roof to ensure its good condition. Roof maintenance activities include cleaning debris and gutters, inspecting for any damages, performing repairs, and ensuring proper drainage.
Choosing Elevated Roofing to service your roof is a wise investment that pays off in a roof that lasts longer, looks better, and improves the value of your residence.
We are a trusted roofing contractor conducting business in Stockton, Galena, Lanark, Apple River, and Rockford, IL. Providing a full range of roofing services in addition to roof maintenance, including new construction, repairs, storm & hail insurance claims, and a complete roof replacement. We stand by our work and use only the highest quality roofing and underlayment materials.