What Is Roofing Underlayment?
Roofing underlayment doesn't get as much attention as shingles do because they're the most visible part of the roof. However, underlayment is the unsung hero of a good roof. It's a layer of moisture-resistant material that goes underneath your shingles, helping to protect your roof from damage caused by water seeping through your shingles.
For years, roofers and contractors used felt for this purpose, but now synthetic materials have taken over. They're more expensive but lighter, lie flatter, and offer better water resistance, saving you a big headache.
First Defense
Waterproofing Roofing Underlayment
The first defense in protecting your home from the elements is with a waterproofing roofing underlayment. This self-adhering material is installed at vulnerable areas of your roof, like around chimneys and skylights, to create an added layer of protection to guard against leaks caused by rain and ice dams.
You want the best of the best when it comes to keeping your roof watertight. That's where CertainTeed WinterGuard® Waterproofing shingle underlayment comes in. Made from a composite of asphalt polymers, this rolled sheet of roofing underlayment is built to last. Not only is it vapor-tight thanks to the asphalt, but the polymers make it stretchy and adhesive too. This means it can stretch and seal around nails that might otherwise leave gaps for water to seep in. At Elevated Roofing, we know that protecting your roof is vital to keeping your home safe and dry. We feature CertainTeed WinterGuard® as our go-to solution for tackling water penetration in your roof's most vulnerable areas.
Several options are available to meet the needs of every roof style, slope, and preference. Whatever surface type you choose, take comfort in knowing that you've made an informed decision to protect your roof for years to come.
Download the WinterGuard® Brochure
GRANULAR
If you're looking for superior traction during application, the granular surface with embedded granules may be the perfect fit.
SAND
The sand surface offers enhanced traction during application.
METAL
For those with metal, shingle, slate, or mechanically-fastened tile roofs, the high-temperature textured surface roofing underlayment of the metal option has you covered.
High Temp (HT)
If you're searching for high-temperature and enhanced skid resistance for shingle, metal, slate, or tile roofs, the HT option covers you.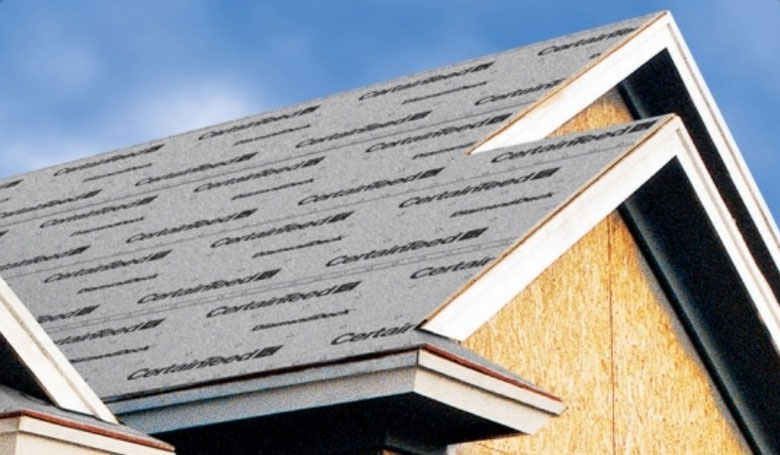 SECOND DEFENSE
Water-Resistant Roofing Underlayment
Have you ever experienced a leaky roof during a rainstorm? It can cause severe damage to your home. This water-resistant layer of roofing underlayment acts as a secondary barrier against leaks, providing extra protection for your home. It's like having a backup plan in case of emergencies.
CertainTeed's DiamondDeck®
Specifically manufactured to offer unparalleled weather protection, ensuring your roof is well-protected from the elements. CertainTeed's DiamondDeck® High-Performance Synthetic Underlayment is also designed with the roofing contractor's safety in mind.
SYNTHETIC UNDERLAYMENT
This synthetic underlayment can be used with various roofing materials, including shingle, shake, metal, and slate. What sets it apart from standard felt underlayment is its exceptional dimensional stability. In other words, it won't warp or move around like other options.
SLIP RESISTANT
One common issue of subpar roofing underlayments is how they can wrinkle and cause visible imperfections under your shingles. Luckily, DiamondDeck® eliminates the risk of wrinkling and has a top surface treatment that gives it outstanding slip resistance, even when wet.
CertainTeed's RoofRunner™
RoofRunner™ is a synthetic polymer-based underlayment that's a game-changer in the residential roofing industry – outperforming felt and other synthetics out there. Special treatment on the top surface provides unbeatable slip resistance, even in wet conditions. And with a roll size that's four feet wide and 250 feet long, it quickly covers a lot of ground.
REINFORCED
Based on a tough woven polyolefin reinforcement laminated between layers of specially formulated UV-stabilized polymer films.
DIMENSIONAL STABILITY
It has exceptional dimensional stability compared to standard asphalt felt underlayment when wet.
Elevated Roofing Only Uses The Highest Quality Products Including The Underlayment
Elevated Roofing works hard to protect your home and your roof while strengthening its long-term performance. In order to do that, we have to have experienced roofers and use the best roofing products. Not just the shingles but the underlayment as well.
Click the button below to start your roofing estimate or view our gallery of local roofs in the Stockton, Rockford, Galena, Apple River, and Lanark Illinois areas.
Elevated Roofing Verified Company Reviews
Elevated Roofing did a great job on our roof. They were the only company to notice the storm damage and push us to talk to our insurance who ended up covering 99% of our roof! Matthew was very communicative and determined to do the best job he and his crew could. He was patient, informative and always looked out for any extra problems that our roof was hiding. The work his crew did is really good and our roof looks amazing now. He even was able to fix some other issues on time and help us to get a roof that will last us as long a possible. We are really thankful to him and to him for savings us thousands on our roof. Highly recommend.