Our Guarantee To You
5-YEAR GUARANTEE ON YOUR ROOF
Our company stands by all of our residential roofing work. We know that when we put up a roof in Stockton or Rockford, it's going to be there for the long term, and we are so confident in our abilities that we provide you with a 5-year guarantee. This also gives you peace of mind that once you invest in a new roof with us, it will be covered for 5 years, and in the unlikely event of a leak or problem, we will come out to fix it without costing you a penny.*
The Go-To Roofing Company For Your Home
Purchasing a new roof is not cheap, but it is an investment in your residential property. When you make a large purchase like a new roof, you want to do it with the confidence that you hired the most trustworthy company, using the best quality roofing materials for your buck, with outstanding workmanship and customer care.
You came to the right place because that's what Elevated Roofing is all about. We are a local residential roofing company based in Stockton and Roscoe (near Rockford, IL). Our small but expert team is dedicated to ensuring that your roof will be beautifully and adequately installed. Not only do we believe you deserve the best, but we also know we will have to drive past our work every day. We want to ensure that the communities we live in get the highest quality roofs – both functionally and aesthetically – so we can hold our heads up high with pride.
Your roof is a crucial element of your home, and we provide a higher level of service to ensure that your home is kept in the top condition you strive for by delivering quality roofing at a fair cost. We continuously strive to deliver the highest level of knowledge, practices, and warranties to give you the best value possible.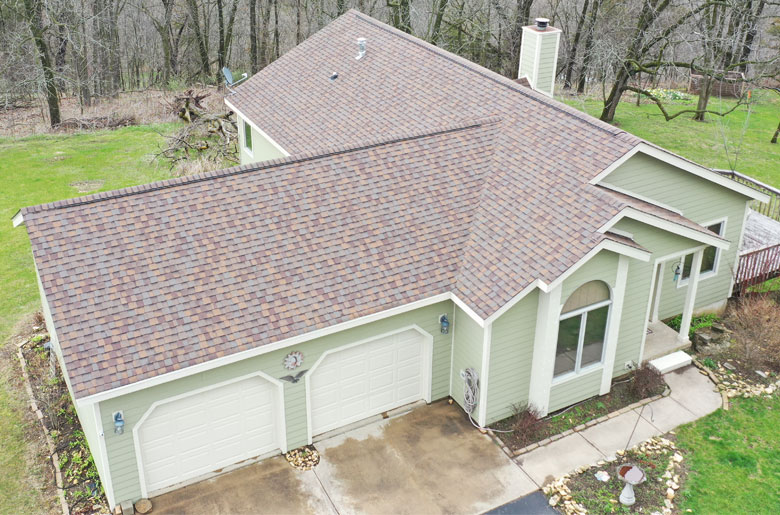 Residential Roof Replacement Near Me
Roof replacements need to be done well to last. The materials are important but what matters most is the installation.
Our highly trained professionals follow the best practices and specifications for residential roofing. Their attention to detail and understanding that each roof is unique allows our company to install long-lasting, reliable, and affordable roofs in a fast time frame.
This is why we constantly get 5-star ratings!